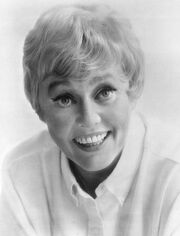 Pat Carroll is an American actress, best known for voicing Ursula in The Little Mermaid. Her other well-known roles include Bunny Halpern from Make Room For Daddy, Alice Brewster from Caesar's Hour, Clara Appleby from The Red Skelton Hour, Prunella in the 1965 musical version of Cinderella, Mrs. Feeney from Laverne and Shirley, Hope Stinson from The Ted Knight Show (where Jim Davis once guest starred), and Rebecca Chadwick from ER.
Carroll has also appeared in shows such as Saturday Night Revue, The Tonight Show, The Mike Douglas Show, The Danny Kaye Show, The Carol Burnett Show, Love, American Style, Getting Together, Busting Loose, and She's the Sheriff, as well as the movies With Six You Get Eggroll, Songcatcher, and Freedom Writers.
Carroll has voiced Katrina Stoneheart in Pound Puppies, Hazel in Foofur, and Ms. Biddy McBrain in Galaxy High School, Morgana in The Little Mermaid II: Return to the Sea, and Granny in the Disney dub of My Neighbor Totoro.
In theatre, Carroll won many awards for her performance on Gertrude Stein, Gertrude Stein, Gertrude Stein as the title character. She has also appeared in Catch a Star!, Our Town, Electra, and The Merry Wives of Windsor.
Carroll was a panelist in game shows such as To Tell the Truth, I've Got a Secret, Password, Match Game, You Don't Say!, and Super Password.
Ad blocker interference detected!
Wikia is a free-to-use site that makes money from advertising. We have a modified experience for viewers using ad blockers

Wikia is not accessible if you've made further modifications. Remove the custom ad blocker rule(s) and the page will load as expected.