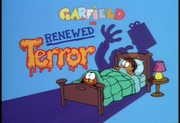 Renewed Terror is an episode from the fifth season of Garfield and Friends.
Synopsis
Jon gets pestered into subscribing for a magazine, and once he does subscribe, it doesn't end there.
Plot
Characters
Major Characters
Minor Characters
Trivia
Goofs
On the clipboard paper, Lee Mendelson's last name is misspelled as "Mendleson".
Gallery
The episode gallery can be seen here.
Ad blocker interference detected!
Wikia is a free-to-use site that makes money from advertising. We have a modified experience for viewers using ad blockers

Wikia is not accessible if you've made further modifications. Remove the custom ad blocker rule(s) and the page will load as expected.