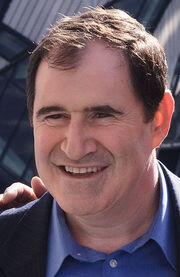 Richard Kind is an American actor. He is known for his roles as Dr. Mark Devanow from Mad About You, Paul Thomas Lassiter from Spin City, and more recently, Bing Bong from Inside Out.
Other credentials include Carol & Company, Tom and Jerry: The Movie (as Tom), A Bug's Life, Oswald, Kim Possible, Curb Your Enthusiasm, Confessions of a Dangerous Mind, Scrubs (as Harvey Corman, a name similar to a famous actor), American Dad!, Cars (and its sequel), Everyone's Hero, The Penguins of Madagascar, Toy Story 3, Gotham, and Stargate (both the original film and Stargate Atlantis).
Ad blocker interference detected!
Wikia is a free-to-use site that makes money from advertising. We have a modified experience for viewers using ad blockers

Wikia is not accessible if you've made further modifications. Remove the custom ad blocker rule(s) and the page will load as expected.