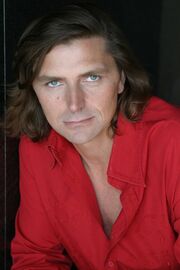 Robin Atkin Downes (born 6 September 1976) is an English actor and voice actor. He has been heard in video games- including The Bard's Tale, Guild Wars, The Last of Us, Mass Effect, and Ninja Gaiden II- and animated series- including Chalkzone, The Grim Adventures of Billy and Mandy, Stroker and Hoop, Regular Show, and the 2011 version of Thundercats.
Voiceover
Credited with additional voices
Ad blocker interference detected!
Wikia is a free-to-use site that makes money from advertising. We have a modified experience for viewers using ad blockers

Wikia is not accessible if you've made further modifications. Remove the custom ad blocker rule(s) and the page will load as expected.