Roy Rooster
Talk

0
547pages on
this wiki
Roy Rooster
[[

Added by

Ollin001

|250px]]


Occupation

Rooster

Affilitions

Sometimes Bad always good

Species

White Rooster

Friends

Enemies

No information

First appearance

Last appearace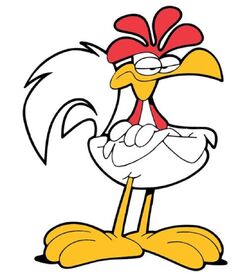 Roy Rooster is the tritagonist and antagonist in U.S. Acres. In Garfield and Friends, he is voiced by Thom Huge.
Personality
Roy is the farm's wake-up call and a prankster. He is a loud, greedy rooster who endlessly enjoys practical jokes. In Rooster Revenge, he calls himself the "prankster gangster". He is also shown to be Wade's antagonist, due to Wade being easily frightened by everything, especially Roy's pranks. (In fact, the official Garfield website calls Roy an antagonist ("not a bully, just an irritant").
First appeared: "Wanted Wade".
Last appeared: "The Monster Who Couldn't Scare Anybody"
Trivia
Roy, Orson, Aloysius and Lanolin are the only U.S. Acres characters who are known to be able to go to the bathroom. In Happy Garfield Day, Roy farts while watching "The 12 Courses of Dinner" on television. After this happens, Orson stares at him.
Lanolin hates him and she often threatens to have the farmer's wife turn Roy into a feather duster.
Roy scares Wade by pranking him, other times, they argue, other times they really do act like friends. Therefore, they have a love/hate friendship.
In the cartoon version, in "Once Upon a Time Warp", Wade's been trying to get his five dollars back from Roy for 14 years. It's not clear what relationship they had before they moved to the farm(friends, frenemies, love/hate friendship, etc), but it seems that Roy and Wade knew each other for 14 years. In the episode "Holiday Happening", however, Roy says he is Wade's uncle though he may have been just mocking.