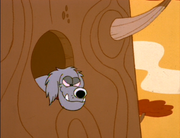 Rufus T. Crabbe (voiced by Frank Welker) is the dog of Michael Crabbe. He seems to enjoy tormenting mailmen, including Orson Pig. He recieves a birthday package from Michael Crabbe, which turns out to be a chew toy with a familiar shape.
He was thought to be Hermit Crabbe, a reclusive being who hasn't been seen since the cancellation of I Love Lucy (he was a Fred Mertz fan).
Appearances
Season 6
Ad blocker interference detected!
Wikia is a free-to-use site that makes money from advertising. We have a modified experience for viewers using ad blockers

Wikia is not accessible if you've made further modifications. Remove the custom ad blocker rule(s) and the page will load as expected.