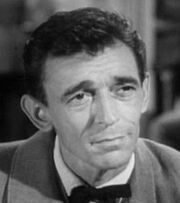 Sandy Kenyon (born as Sanford Klein) (August 5, 1922 – February 20, 2010) was an American actor.
He made appearances in movies and television series such as Al Capone, Breezy, MacArthur (as Jonathan M. Wainwright), When Time Ran Out, The Rifleman, Have Gun-Will Travel, The Dick Van Dyke Show, The Partridge Family, Gunsmoke, That Girl, Hogan's Heroes, Adam-12, Quincy M.E., Knots Landing, The Twilight Zone, Bonanza, Kung-Fu, All in the Family, Riverboat (as Abraham Lincoln), The Americans, and The Travels of Jamie McPheeters.
Ad blocker interference detected!
Wikia is a free-to-use site that makes money from advertising. We have a modified experience for viewers using ad blockers

Wikia is not accessible if you've made further modifications. Remove the custom ad blocker rule(s) and the page will load as expected.