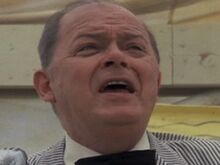 Scott Beach (January 13, 1931 – February 13, 1996) was an American actor, writer, and disc jockey.
In radio, Beach was notably heard on the San Francisco stations KSFO and KKHI.
Beach appeared in early George Lucas films, including THX 1138, American Graffiti, and the first installment of Star Wars. His other notable film credentials include Bullitt, The Right Stuff, To Be or Not to Be, Stand By Me, and Mrs. Doubtfire. He voiced characters in the Peanuts specials You're the Greatest, Charlie Brown and She's a Good Skate, Charlie Brown, as well as the movie Bon Voyage, Charlie Brown (and Don't Come Back!!)
Beach was the original announcer for The Newlywed Game, preceding longtime announcer Johnny Jacobs. He narrated for documentaries such as "The Making of" for Silent Running and Raiders of the Lost Ark.
Ad blocker interference detected!
Wikia is a free-to-use site that makes money from advertising. We have a modified experience for viewers using ad blockers

Wikia is not accessible if you've made further modifications. Remove the custom ad blocker rule(s) and the page will load as expected.