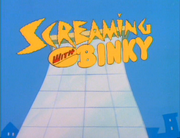 Screaming With Binky is one of the short segments featured in Garfield and Friends, which aired during the second and third season of the show.
Each segment would focus on Binky using his typically loud greeting, which would have devastating effects on the scene featured; the result would usually damage or destroy structures and/or cause a person to mess up a procedure.
List of Screaming With Binky segments
Diamond Cutter
Baseball
Surgeons
Mountains
Circus
Building
Ballerina
Golf Pro
Laryngitis
Sand
Pizza
Wade
Ear Plugs
Cartoonist
Notes
When the series aired in syndication in the United States, the only Screaming With Binky segment that aired was "Wade".
In the DVDs, four of the segments- "Baseball", "Mountains", "Ballerina", and "Pizza"- were left off.
Ad blocker interference detected!
Wikia is a free-to-use site that makes money from advertising. We have a modified experience for viewers using ad blockers

Wikia is not accessible if you've made further modifications. Remove the custom ad blocker rule(s) and the page will load as expected.