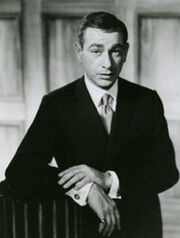 Shelley Berman is an American actor and comedian.
He is well known for his comedy routines, as captured on albums such as Inside Shelley Berman (which won a Grammy Award for "Best Comedy Performance, Spoken Word") and Outside Shelley Berman.
As an actor, he may be best known as the fictional father of Larry David in Curb Your Enthusiasm.
Early in his career, he wrote for The Steve Allen Plymouth Show.
External Links
Ad blocker interference detected!
Wikia is a free-to-use site that makes money from advertising. We have a modified experience for viewers using ad blockers

Wikia is not accessible if you've made further modifications. Remove the custom ad blocker rule(s) and the page will load as expected.