Squeak (voiced by Gregg Berger) is a mouse that Garfield befriends on October 30, 1984. He appeared for the first two weeks then disappeared before briefly returning in early 1985. He came back for Garfield's nineteenth birthday in 1997. His most recent appearance was on December 24, 2016.
Squeak often appears in The Garfield Show. He is a frequent friend of Garfield, often helping him out of a jam or requesting that he help the mice in some way.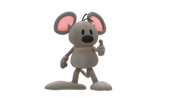 Trivia
Garfield gave Squeak his name
Squeak has appeared 15 times in the comics.
Appearances
Season 1
Season 2
Season 3
Season 4
Season 5
Gallery
The gallery for Squeak can be viewed here.
Ad blocker interference detected!
Wikia is a free-to-use site that makes money from advertising. We have a modified experience for viewers using ad blockers

Wikia is not accessible if you've made further modifications. Remove the custom ad blocker rule(s) and the page will load as expected.