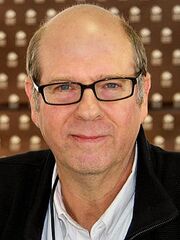 Stephen Harold Tobolowsky (born May 30, 1951) is an American actor.
Tobolowsky's best known roles include Ned Ryerson from Groundhog Day (alongside Bill Murray), Sammy Jenkins from Memento, Ray Heary from Mr. Rhodes, Bob Bishop from Heroes, Stu Beggs from Californication, Principal Ball from The Goldbergs, and Jack Barker from Silicon Valley.
Prior to his acting career, he was a member of local Dallas band Cast of Thousands; the group recorded two songs, both featuring a then unknown Stevie Ray Vaughan.
Actor
Ad blocker interference detected!
Wikia is a free-to-use site that makes money from advertising. We have a modified experience for viewers using ad blockers

Wikia is not accessible if you've made further modifications. Remove the custom ad blocker rule(s) and the page will load as expected.