Stink, Stank, Skunk! is an episode from the fourth season of The Garfield Show.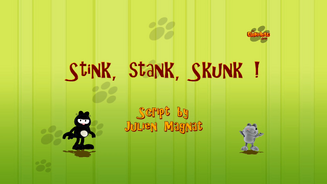 Synopsis
Garfield gets painted to look like a skunk, thinking that it would make life easier for him.
Plot
Characters
Main Characters
Major Characters
Trivia
Cultural References
The title of the episode is a spoof of the "Stink, Stank, Stunk" line from the How the Grinch Stole Christmas! song "You're a Mean One, Mr. Grinch".