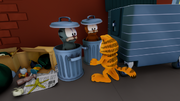 Teno and Geno (voiced by Wally Wingert and Frank Welker) are cat brothers who live in an alley. They often go through the garbage at Vito's, as does a vicious bulldog named Crusher.
When an amnesiac Garfield is led to believe he is an alley cat named Ichabod, the duo help "Ichabod" with life in the alley. After regaining his memory and returning home, Garfield provides them with dinner from Jon, before warning them that they would prefer garbage.
Appearances
Ad blocker interference detected!
Wikia is a free-to-use site that makes money from advertising. We have a modified experience for viewers using ad blockers

Wikia is not accessible if you've made further modifications. Remove the custom ad blocker rule(s) and the page will load as expected.