The Robot is the sixth episode from the first season of The Garfield Show.
Synopsis
Jon buys a robot to clean up after pets, but it torments Garfield and Odie instead.
Plot
Jon is making beef stew in the kitchen. As he carries it out, he slips on one of Odie's toys, followed by Garfield's dish. He chides the two for not picking up after themselves, then hears the doorbell.
At the door is Mr. Sellers, a salesman, who offers a cleaning robot named the TID-E 7000. As a demonstration, Mr. Sellers sets the robot to clean up after pets. The robot does so, using robotic visions to find targets; it also collects the pets themselves, putting them into the trash cans outside. Jon is pleased with the performance of the robot, and thus signs the paper to buy it, much to the dismay of Garfield and Odie. He is given an instruction manual, but throws it out, figuring it to be of no use.
Garfield tries to eat a cookie without any trouble, but a falling crumb causes the robot to go vacuum him up (with Odie already inside).  After the two are thrown out, Odie has the instruction manual in his mouth, which Garfield notices. Garfield decides to use it to their advantage.
In the living room, Odie incites the robot by dropping popcorn on the floor. As the robot chases Odie, Garfield jumps on top of it and opens its top.  From there, he manages to reprogram it to clean up after Jon. It proceeds to do so when he drops a popcorn kernel on the floor, eventually scrubbing him thoroughly. Garfield eventually stops the robot.
Jon apologizes for the turnout of the robot, blaming the salesman. When Mr. Sellers returns to the house to check on the robot, Garfield dumps mud on him from the roof, causing the robot to go after him (Garfield reprogramed it to "clean sleazy sales people"). After realizing that he hasn't been refunded yet, Jon tries to get to Mr. Sellers, while Garfield and Odie decide to make the house a mess again.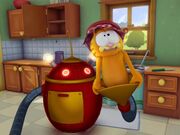 Characters
Main Characters
Minor Characters
Trivia
Videos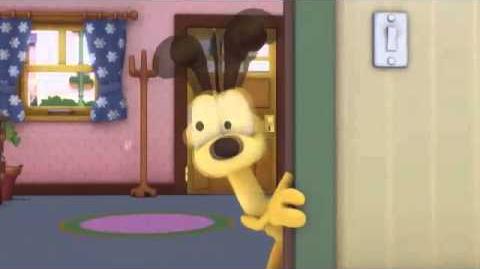 The Garfield Show
Episodes

Season 1: "Pasta Wars" "Mother Garfield" "Orange and Black" "Freaky Monday" "Bone Diggers" "The Robot" "Catnap" "Agent X" "A Game of Cat and Mouse" "Perfect Pizza" "King Nermal" "Desperately Seeking Pooky" "High Scale" "Jon's Night Out" "Not So Sweet Sound of Music" "Turkey Trouble" "Pup in the Pound" "Odie in Love" "Pet Matchers" "Lucky Charm" "Curse of the Were-Dog" "Meet the Parents" "Down on the Farm" "The Pet Show" "Curse of the Cat People" "Glenda and Odessa" "Underwater World" "Family Picture" "Time Twist" "Time Master" "Fish to Fry" "Little Yellow Riding Hood" "Fame Fatale" "Virtualodeon" "It's a Cat's World" "Mailman Blues" "Extreme Housebreaking" "Heir Apparent" "Caroling Capers" "From the Oven" "Neighbor Nathan" "History of Dog" "Up a Tree" "It's a Cheese World" "Nice to Nermal" "Out on a Limb" "Super Me" "Mastermind" "The Amazing Flying Dog" "The Last Word" "Iceman" "T3000"

Season 2: "Home for the Holidays" (Part 1, Part 2), "Ticket to Riches" "Gravity of the Situation" "The Art of Being Uncute" "Night of the Bunny Slippers" "Blasteroid" "The Big Sneeze" "The Spy Who Fed Me" "Meet Max Mouse" "The Haunted House" "Which Witch" "Cyber Mailman" "Odie for Sale" "Farm Fresh Feline" "Dog Days" "Planet of Poultry" "With Four You Get Pizza" "The Bluebird of Happiness" "Inside Eddie Gourmand" "Fido Food Feline" "Everything's Relative" "Honey, I Shrunk the Pets" "Garfield Astray" "History of Cats" "Black Cat Blues" "Cuter Than Cute" "Great Pizza Race" "Master Chef" "Guest from Beyond" "Depths of a Salesman" "Night of the Apparatuses" "Land of Hold" "Penny Henny" "A Gripping Tale" "Wicked Wishes" "Jumbo Shrimpy" "Pirate Gold" "Me, Garfield and I" "Detective Odie" "Stealing Home" "Full of Beans" "Love and Lasagna" "True Colors" "Mind Over Mouse" "The Big Sleep" "Pampered Pussycat" "Parrot Blues" "Rain or Shine" "The Mole Express" "Unfair Weather" (Part 1, Part 2)

Season 3: "Furry Tales" (Part 1, Part 2, Part 3, Part 4) "Kind to Kittens" "Little Angel" "Prehistoric Pup" "Land of Later" "Laugh in a Can" "The Non-Garfield Show" "The Caped Avenger Strikes Again!" "The Superhero Apprentice" "Teddy Dearest" "Bath Day" "What a Difference a Pet Makes" "Garfield Gets Canned" "Partners in Mime" "Boris the Snowman" "Long Lost Lyman" (Part 1, Part 2, Part 3, Part 4), "The Golden Lasagna Awards" "Pawparazzi" "It's About Time" "Online Arbuckle" "Muscle Mouse" "The Write Stuff" "Cupid Cat" "The Control Freak" "Every Witch Way" "Revenge of the Cat People" "The Garfield-Only Show" "Filthy Fugitives" "Smartest Dog in the World" "Farmer Garfield" "More Than Meets the Eye" "Fast Friends" "Where's Odie" "Doggone Jon" "The Mysterious Machine" "Fitness Crazed" "Little Trouble in Big China" (Part 1, Part 2, Part 3, Part 4) "My Friend, Nermal" "Take a Ferret to Lunch" "Bride and Broom" "Problems, Problems, Problems" "Two Times the Trouble" "The Great Trade-Off"

Season 4: "Lion Queen" (Part 1, Part 2, Part 3, Part 4, Part 5) "Bewitched" (Part 1, Part 2, Part 3, Part 4, Part 5) "The Mean Machine" (Part 1, Part 2, Part 3, Part 4, Part 5) "Glitter Gulch" (Part 1, Part 2, Part 3, Part 4, Part 5) "Against All Tides" (Part 1, Part 2, Part 3, Part 4, Part 5) "Lasagna Tree" (Part 1, Part 2, Part 3, Part 4, Part 5) "Into the Wild" (Part 1, Part 2, Part 3, Part 4, Part 5) "Double Vision" "My Cousin Petunia" "Barking Mad" "Garfception" "For Mice" "Six-Can Solution" "Silence of the Sheep" "Bulldog of Doom" "Mother Owl" "Home Sweet Home" "Whatever Happened to Aunt Ivy?" "Delicious Donut Day" "Little Miss Mouse" "The Stink, Stank, Skunk!" "Jon 2" "The Dog of My Cat" "World Without Me" "Fraidy Cat" "Very Very Long Night"

Season 5: "Rodent Rebellion" (Part 1, Part 2, Part 3, Part 4)
Ad blocker interference detected!
Wikia is a free-to-use site that makes money from advertising. We have a modified experience for viewers using ad blockers

Wikia is not accessible if you've made further modifications. Remove the custom ad blocker rule(s) and the page will load as expected.