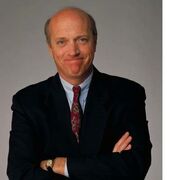 Thom Sharp is an American actor and comedian. He is notable for his bald nature.
As a stand-up comic, Sharp has performed on Norm Crosby's Comedy Shop, The Tonight Show Starring Johnny Carson, Late Night With David Letterman, The 1/2 Hour Comedy Hour, and Super Bloopers and Practical Jokes.
Sharp has made appearances in shows such as First Impressions, Family Matters, Home Improvement, and Dinosaurs, and movies such as Body Heat, Stoogemania, Heartbreak Ridge, Taking Care of Business, and Spy Hard. He also starred in his own short, Golf, I Hate the Game!
He has done work in ads for Goodyear, Ziploc, GE, Buick, and CompUSA, the latter of which also included Jack Riley.