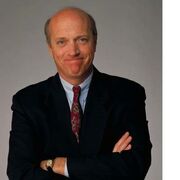 Thom Sharp is an American actor. He has done work in ads for Goodyear, Ziploc, GE, Buick, and CompUSA, the latter of which also included Jack Riley. He is notable for his bald nature.
Sharp has made appearances in shows such as Family Matters, Matlock, Home Improvement, and Dinosaurs, and movies such as Heartbreak Ridge and Spy Hard.
Ad blocker interference detected!
Wikia is a free-to-use site that makes money from advertising. We have a modified experience for viewers using ad blockers

Wikia is not accessible if you've made further modifications. Remove the custom ad blocker rule(s) and the page will load as expected.