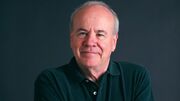 Tim Conway is an American actor and comedian.
He may be best known as Ensign Charles Parker from McHale's Navy, as well as one of the main cast members of The Carol Burnett Show and the title character of the Dorf films. He has also portrayed Barnacle Boy from Spongebob Squarepants.
His other credentials include The Steve Allen Show, the 1967 series Rango, the short-lived Turn-On, Ace Crawford, Private Eye, Married...With Children, and Yes, Dear.
He has often collaborated with other celebrities, including Harvey Korman and Don Knotts.
Garfield's Fun Fest
Ad blocker interference detected!
Wikia is a free-to-use site that makes money from advertising. We have a modified experience for viewers using ad blockers

Wikia is not accessible if you've made further modifications. Remove the custom ad blocker rule(s) and the page will load as expected.