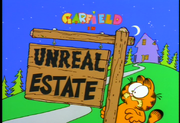 Unreal Estate is an episode from the sixth season of Garfield and Friends.
Synopsis
While on vacation, Jon buys a house at a cheap price, unaware of just what's in store for him and his pets.
Plot
Characters
Trivia
Cultural References
At one point, Garfield notes that the haunted house antics are similar to that of Scooby-Doo.
When Garfield checks out the television set, he finds that the only channel it carries is The All Dick Clark Channel.
Ad blocker interference detected!
Wikia is a free-to-use site that makes money from advertising. We have a modified experience for viewers using ad blockers

Wikia is not accessible if you've made further modifications. Remove the custom ad blocker rule(s) and the page will load as expected.