Which Witch is an episode from the second season of The Garfield Show.
Synopsis
Garfield lures Drusilla and Minerva over to the house of Mrs. Cauldron in order to be rid of them. But what he doesn't know is whether or not Mrs. Cauldron is a witch.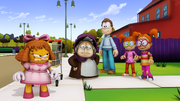 Plot
Characters
Main Characters
Minor Characters
Trivia
This episode marks the first appearance of Mrs. Cauldron.
Videos