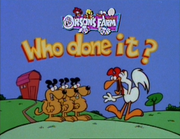 Who Done It? is an episode from the fifth season of Garfield and Friends.
Synopsis
Orson hires a trio of dog brothers. Their names, however, create confusion for the other farm animals.
Plot
Characters
Major Characters
Minor Characters
Family of Who, What and Where (all mentioned)
Trivia
Cultural References
The confusion with the dogs' identities is a parody of "Who's on First" by Abbott and Costello (whom Roy mentions by name). "Who's on First" would later be featured in "Canned Laughter".
Ad blocker interference detected!
Wikia is a free-to-use site that makes money from advertising. We have a modified experience for viewers using ad blockers

Wikia is not accessible if you've made further modifications. Remove the custom ad blocker rule(s) and the page will load as expected.