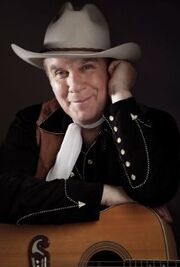 Will Ryan (born November 13, 1939) is an American voice actor, singer, comedian, musician, composer, writer and producer.
Having worked extensively with Disney, he is the main voice for Willie the Giant. He also had occasional stints as Goofy, Pete, Scrooge McDuck, and a few Winnie the Pooh characters. He was the voice of Barnaby from Dumbo's Circus and a seahorse from The Little Mermaid.
His other known roles include Petrie from The Land Before Time, Digit from An American Tail, Frog from Frog and Toad, Grubby the Octopede from Teddy Ruxpin, Eugene Meltsner from Adventures in Odyssey, and Papa Bear from Looney Tunes: Back in Action.
Voiceover
Music
Ad blocker interference detected!
Wikia is a free-to-use site that makes money from advertising. We have a modified experience for viewers using ad blockers

Wikia is not accessible if you've made further modifications. Remove the custom ad blocker rule(s) and the page will load as expected.