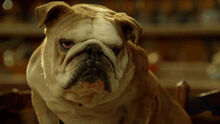 Winston (voiced by Bob Hoskins) is a British bulldog and Prince's bulldog servant. When he first meets Garfield, he mistakens him for Prince. Due to this, he has Garfield stand in for the missing Prince to keep Lord Dargis from demolishing the barnyard. He also assists Garfield and Prince in defeating Lord Manfred Dargis. In the end, he celebrates with the animals by having a pool party.
Appearances
Ad blocker interference detected!
Wikia is a free-to-use site that makes money from advertising. We have a modified experience for viewers using ad blockers

Wikia is not accessible if you've made further modifications. Remove the custom ad blocker rule(s) and the page will load as expected.