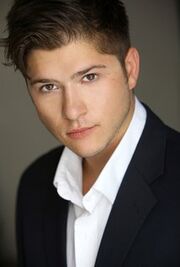 Wyatt Smith is an American actor.
He may be best known for his role as Brian Kmetko from Make It Or Break It. He has also made appearances in The Polar Express (as a motion capture model), The Forty Year Old Virgin, Never Back Down, A Gunfighter's Pledge, and The Perfect Game. He portrayed a young Ethan Winthrop in two episodes of Passions.
Ad blocker interference detected!
Wikia is a free-to-use site that makes money from advertising. We have a modified experience for viewers using ad blockers

Wikia is not accessible if you've made further modifications. Remove the custom ad blocker rule(s) and the page will load as expected.